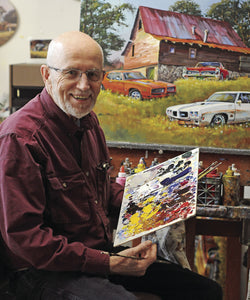 Meet the Artist
Fine automotive artist, Dale Klee has been a professional artist for over 40 years. His love of automotive design began when he was a young boy growing up in the small town of Houghton, MI where his father owned a gas station and cars where always the topic of discussion.
Dale considers automobiles to be "rolling sculptures of art" and has always been fascinated with their design. Fueled by his passion for great automotive design and an artistic appreciation for nature and art, he began to create his dream scenarios in the form of beautiful acrylic artwork featuring classic cars, trucks and motorcycles.
Today, Dale continues to create his colorful classic automobile scenes with his well worn pallet and brushes out of his studio in Wyoming, MN (a quaint community just north of the Minnesota Twin Cities of Minneapolis and St. Paul). His prints now adorn homes and businesses throughout the world.
Read More >>